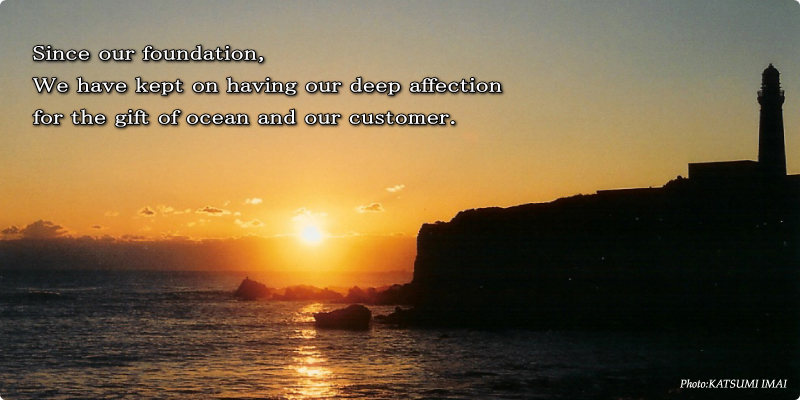 Our company is situated on the east coast of Japan.
The border between Hasaki, Ibaraki Prefecture and Choshi, Chiba Prefecture. We started our business
in 1920's,
became a corporation in 1977,
And got a license of warehouse business in 1988.

Japan's East coast is well know as a good place for catching fish,because the Kuroshio Current and
the Kurile Current across each other.
With these fresh and rich resources, we treat them under the strict check of people who stick to
tradition of our local.
And we manufacture excellent products and distribute domestically.
At the same time, we export them overseas and get a good reputation and trust.


Representative Director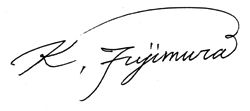 Trade name

| | | |
| --- | --- | --- |
| Kakujyu | | |

Company Name
Fujimura co.,LTD.
Established
October 1, 1977
Director
Shouji Fujimura
Takayuki Fujimura
Masami Hayashizaki
Auditor
Kanji Fujimura
Representative Director
Kenichiro Fujimura
Address
Head Ofiice
8213 Hasaki, Kamisu-city, Ibaraki-Pref 314-0408, JAPAN
Tel +81-479-44-1701

Shinko Factory
2-2 HasakiShinkou, Kamisu-city, Ibaraki-Pref 314-0408, JAPAN
Tel +81-479-44-6174

Kashima Distribution Center
2668-24 Sunayama, Kamisu-city, Ibaraki-Pref 314-0255, JAPAN
Tel +81-479-46-1205

Houyama Fixed Temperature Center
2891-30 Ota, Kamisu-city, Ibaraki-Pref 314-0254, JAPAN
Tel +81-479-40-1170
Main Activities
Fresh fish sales.
Frozen process materials fish.
(Domestic-oriented , For export.)
Sardine, Mackerel, Mackerel pike, Anchovy, and Horse mackerel, etc.

Business warehouse.
Cold Storage , Normal Warehouse , Fixed Temperature
Web
English
http://www.kakujyu.jp/english/

Japanese
http://www.kakujyu.jp/


On our 30th anniversary of company foundation,
We acquired the certification of "ISO9001"
on September 19,2007.

As a new step with this certification,
We all the employees and the officers will make an effort
to offer further high quality products, safety and relief.